Whether you need help meeting a tight deadline or designing and developing a complete turnkey system, Zortec's consulting group is here to help. Our services span a broad range of technical areas including:
Custom Programming
Installation and Configuration
Application conversion / migration
Database Integration
Project Management
IT Strategy
Web Services
Your company has invested a considerable amount in its technology, so why not turn to the experts to help with your next initiative? Our consultants are thoroughly trained on Zortec's complete product line, along with all other widely used development tools and database technologies.
Whatever your needs are, we've got the resources to help. To discuss your next project, email us at consulting@zortec.com or call 1-800-361-7005.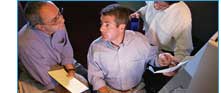 'We selected System Z because of it's ability to run on multiple platforms with the same source code. It's RAD environment enables us to quickly respond to our clients' needs and we depend on it to cut time-to-market for our application software products.



Mike Silver
Vice President of Software Development
Rental Sales and Software Services
Corpus Christi, Texas